I love to observe and watch animals. I love nature and the out-of-doors. I enjoy hunting and fishing. Being gifted with artistic ability--becoming a taxidermy artist--it was a natural fit!
Every mammal, bird or fish that comes through my studio door is considered an individual. All are beautiful to me. I note special characteristics and take precise measurements of each specimen. My knowledge of live animals, animal anatomy and behavior, coupled with great attention to detail makes sure your trophy comes back to you looking alive!
All clients are encouraged to provide suggestions for the pose and attitude of their mount. I do not produce "standard" or "carbon copy" mounts--but creative competition quality beautiful art pieces. I sign the back of every one of my mounts.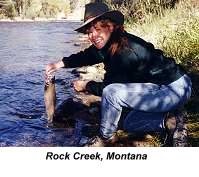 Keeping up with advances in the industry is no different in taxidermy. I always use the best and most accurate products available--keeping abreast of and using the latest techniques and state of the art supplies, and I only use the best tannery in the country.
The State and National Championships that I have won prove that the judges are impressed...you will be too!
Please feel free to email me or call for field care or skinning instructions and prices...I welcome your inquiries.
Jayne Leslie Dyke